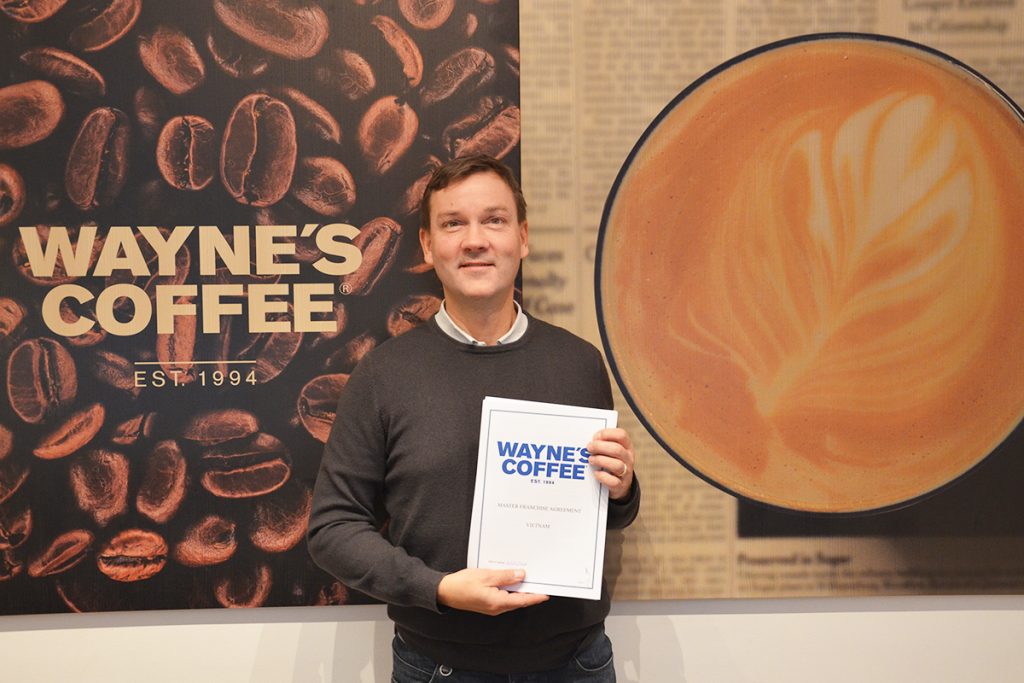 Mats Hörnell, Vice President at Wayne's Coffee, tells us more about the entry into Vietnam.
The opening in Vietnam represents a milestone in our history. Thanks to the deal that we've signed, for the first time we have a presence in the region. It's feels really great.
The deal that Mats Hörnell is referring to is a master franchise-deal for expansion in the entire Vietnam. The deal has been signed between Wayne's Coffee and Vietnam Oman Investment Joint Stock Company.
The stakeholders in this partnership are the Vietnamese state and the Oman state. Together they are forming a joint venture-company, where Arya Consumer will be running the operations.
Working for sustainability
Mr Dung Dính Nguyen is the CEO for the newly formed company Arya Consumer. He emphasizes the sustainability work done by Wayne's Coffee as crucial for making the deal.
– Wayne's Coffee has a strong and reliable profile when it comes to sustainability. It's perfect for Vietnam, since we growing and maturing as a café country. When the economy evolves, the demand for quality and sustainability increases. We are sure that Wayne's Coffee will soon become a national brand in Vietnam.
Someone who can testify for the motivations is the Investment Manager for VOI, Mr Tung Tran.
– The concept that Wayne's Coffee offers suits our investments well when it comes to the organic chain. Besides serving coffee, we are also investing in land and organic farming.
A platform in the region
Mats Hörnell explains that the launch is a part of Wayne's Coffee's long-term establishment strategy, which extends beyond Vietnam.
– We have a long-term view on our presence in Southeast Asia. That makes this deal even more important. It's a first step to show our concept in a culture that is new to us. If it turns out successful we'll definitely open more cafés in Vietnam. It also gives us a platform for further establishment in neighboring countries in the region.
The first café in Vietnam is expected to open during the spring of 2018.
Dũng Đinh Nguyên
dinhnguyendung@bicinvestment.com
+84 (9) 323 288 88
For more information, please contact:
Mats Hörnell, Deputy CEO, Wayne´s Coffee
Phone: + 46 8 402 17 20
Mobile: + 46 73 813 99 00