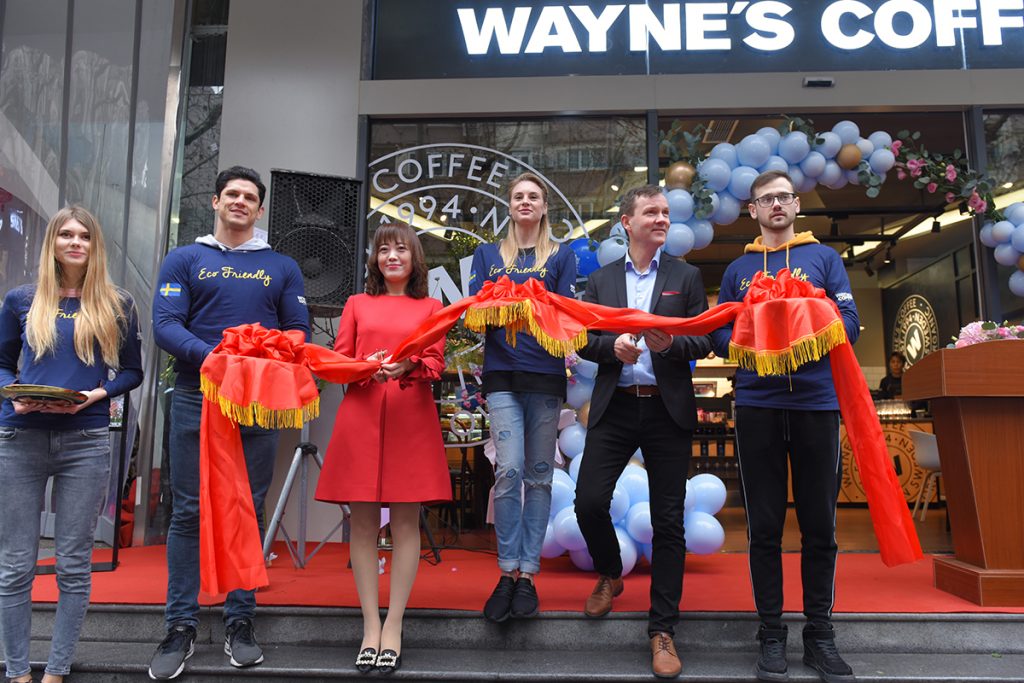 "We're pleased and proud to have opened our first café in China, and its reception has exceeded our expectations. We're seeing huge interest from the city's residents and tourists alike, with a great deal of curiosity regarding Swedish coffee culture in general, and the sustainable, organic concept of Wayne's Coffee.", says Mr Mats Hörnell, CEO of Wayne's Coffee.
The café occupies a central location in Shanghai, adjacent to West Nanjing Road Station, in downtown Shanghai, providing somewhere for travellers to grab a coffee on-the-go, or sit and enjoy a delicious Swedish 'fika' break.
"We are proud to introduce Wayne's Coffee and the concept of 'Swedish fika' to China. Wayne's Coffee is a company with strong values on sustainability and organic products, which is very important for us as well", says Ms Shuang Li, CEO for Wayne's Coffee China and Managing Director for Jucheng Ltd Co, the company who hold the franchised rights for Wayne's Coffee in China.
Ms Shuang Li continues:
"Although we're starting with one café in Shanghai, our ambition is to expand Wayne's Coffee cafés across major Chinese cities".
Mr Li Qing Jun is the owner of Jucheng Ltd Co, which runs a group of companies operating mainly in urban development. In addition to Wayne's Coffee Jucheng Ltd Co holds the franchise in China for the Swedish entertainment concept Brainflow, and are now also bringing the Swedish adventure and science park concept Tom Tits to China as a franchise. The franchisees share a common and keen interest in the organic concept, and Mr Qing Jun himself runs a farm that is 100% organic.
"It feels like we've chosen the perfect partner to spread Swedish coffee culture in China. Now that Wayne's Coffee has cafés in Vietnam and China, we're working actively to find the right master franchisees in other Asian markets," says Mr Hörnell.
—
Contacts:
Mr Mikael Komorowski, Vice-President Wayne's Coffee China
Mobile: +189 1700 6440, email: Mikael.komorowski@waynescoffee.cn
Mr Mats Hörnell, CEO Wayne's Coffee, Mobile Mobile: +46 73 813 99 00, email: mats.hornell@waynescoffee.com