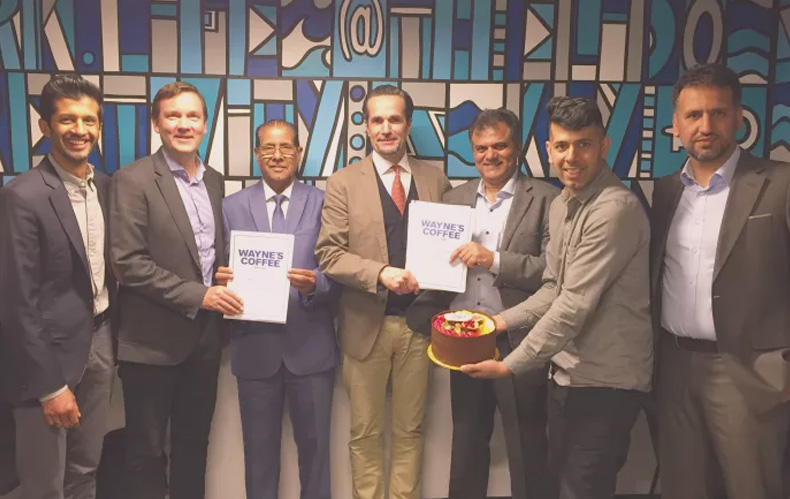 Wayne's Coffee is continuing its expansion in Europe. The popular Swedish chain of coffee shops opened its first shop outside Sweden already in 2010, and it will soon be possible to spot Wayne's familiar blue sign also in the UK. This means that Wayne's Coffee now has a presence in a total of seven countries in Europe and the Middle East.
"Following the success of our concept in several markets outside Sweden, we are pleased to establish a presence the UK. It is an important country for us," says Mats Hörnell, Deputy CEO of Wayne's Coffee. Naturally, he is delighted that the company is entering a new, sizeable market. "After the opening in 2017, we hope to continue our expansion into additional markets in Europe and the rest of the World."
The right franchisee is key to success
According to Mats Hörnell, the company's success is attributable to Wayne's Coffee's strong franchise concept, according to which local partners operate the new coffee shops and manages the brand.
"Our new master franchisee is a highly professional partner that will implement our unique concept and use every endeavour to create a strong local presence throughout the market," says Mats Hörnell.
Inspiration – a Swedish Fika in the UK
The popular chain of coffee shops from Sweden already has a footprint in six countries. In addition to the home country, you can visit Wayne's Coffee in Norway, Finland, Cyprus, Jordan and Saudi Arabia. And now, a seventh country has been added to the list.
Wayne's Coffee's local partner in the UK is a group of investors led by the Karim and Akhtar families. In cooperation with excellent franchisees, they will expand the Wayne's concept in the UK market. Both families are already active on several locations in Europe and the Middle East, including in the restaurant and property development sectors.
The families are represented by the company Four Stars Coffee Limited.
"We are pleased and honoured to be given the chance to become master franchisees for Wayne's Coffee in the UK," says Adnan Karim, CEO of Four Stars Coffee Limited. "Our cooperation with Wayne's Coffee International will take the unique Swedish "fika" concept to a new market and give our guests a new and exciting experience. Wayne's Coffee's genuine focus on sustainability and organic and healthy product was crucial to our decision."
A relaxing spot for friends and family
"Our focus will be to offer exceptional coffee and a wide range of healthy foods in an environment where our guests feel welcome and able to relax in the company of family and friends. And that's exactly what Wayne's Coffee stands for," Adnan Karim concludes.
For more information, please contact:
Mats Hörnell, Deputy CEO, Wayne´s Coffee mats.hornell@waynescoffee.com
Phone: + 46 8 402 17 20
Mobile: + 46 73 813 99 00